Mini award ceremony in times of Covid
07/06/20
Cena SozialMarie
Due to COVID-19, the big public award ceremony to be held on May 1 could not take place as usual this year. As a small consolation, we visited some of the prizewinning project creators in the summer to congratulate them personally.
Due to COVID-19, the big public award ceremony, a celebration with festive performances and joint toasts to be held in ORF RadioKulturhaus on May 1, could not take place as usual this year. We know how important it is for project participants to get to know each other and celebrate together. How can we replace personal recognition and collective celebration in pandemic times? As a small consolation, we visited some of the prizewinning project creators in the summer to congratulate them personally.
During our visit to the Volkshilfe office in Auerspergstraße, Erich Fenninger and Judith Ranftler told us how the entire team of the Essential Child Support project donned festive clothing and watched the livestream of the award ceremony together on Zoom, celebrating winning the 2. Prize virtually. A special feature of the Essential Child Support project is that children are involved in the family's financial decisions in the so-called "Child Future Council". Children formulate their needs themselves and then discuss the resulting goals within the family. The project team consistently notes how modest the children's wishes are, in contrast to the usual stereotypes. Including children in the finances has proven to be a good idea ­– the preliminary results show this. For the future, Volkshilfe is looking for companies that can support the project in the long term.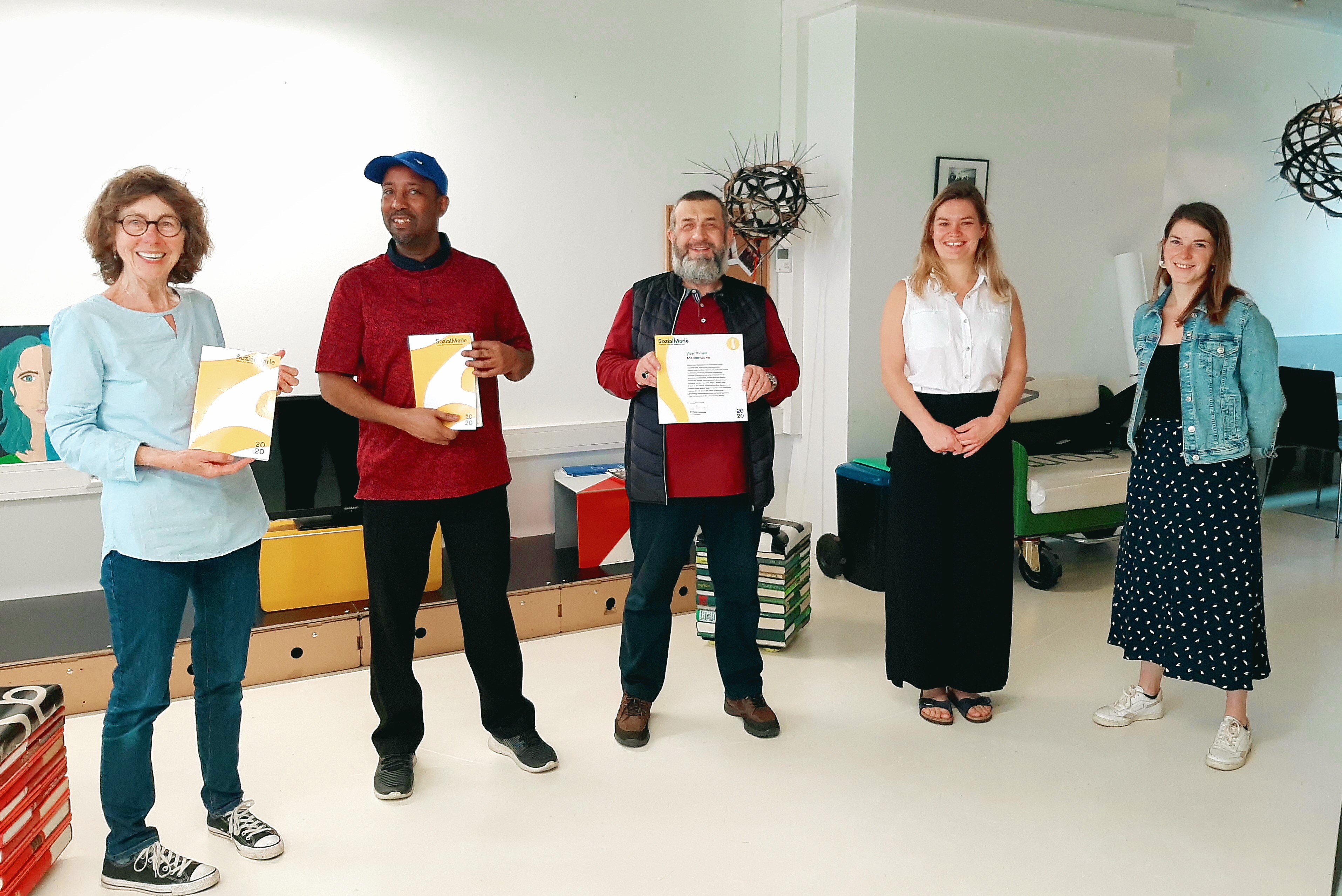 Renate Schnee and Ayten Pacariz from Verein Nachbarinnen (Neighbourhood Association) welcomed us into their modern office at Social City in the 20th district. Two moderators of the "men's tables" from Somalia and from Tajikistan shared coffee and cake with us and talked about their training at Katholisches Bildungswerk (Catholic Educational Centre), where they learned to moderate discussions on topics such as "finances", "problems with teenagers", and "parents at the limit". They are parents and grandparents themselves and know too well the taboos that prevent men and women from being equally involved in raising children. The project Men's Business was awarded a 2,000 Euro Prize on May 1.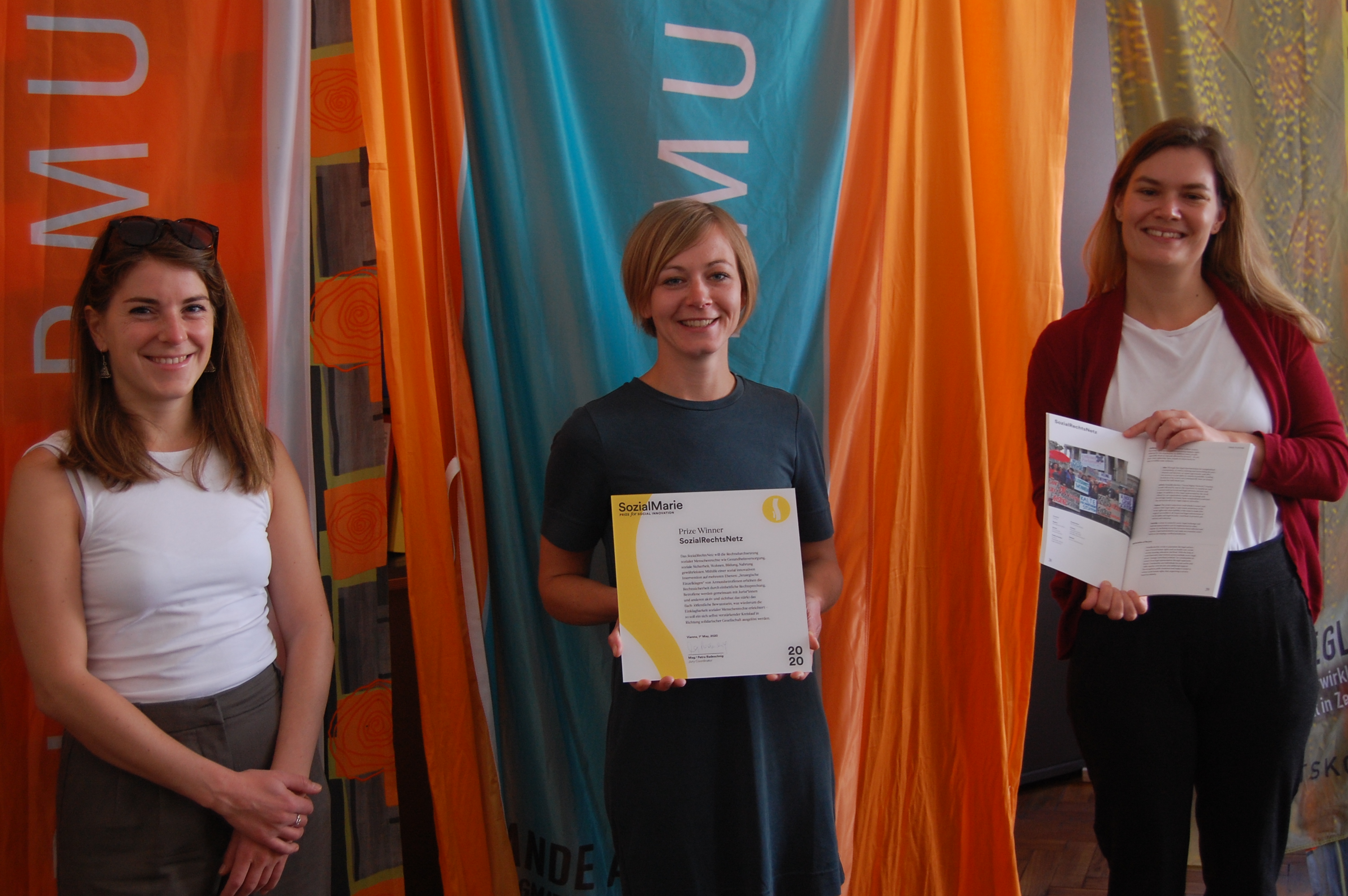 We met the SozialRechtsNetz in their shady courtyard for a coffee. Alexandra Humer told us that the work of SozialRechtsNetz consists mainly of networking people and organisations and therefore their role often remains invisible. In the future, they want to make sure that the importance of social rights is more audible and to fight for these rights to be anchored in the constitution. The project received a 2,000 Euro Prize on May 1.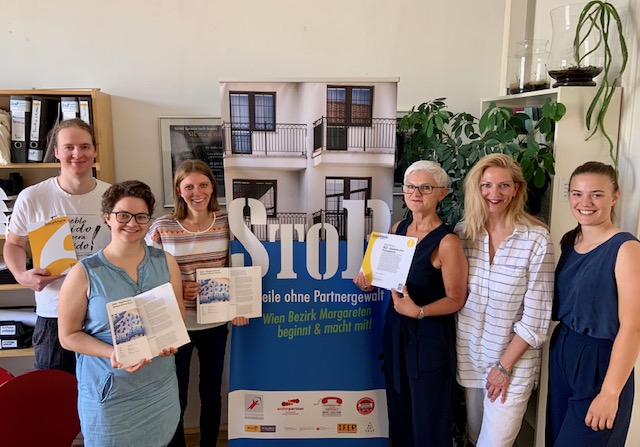 Autonome Österreichische Frauenhäuser (Association of Autonomous Austrian Women's Shelters, AÖF) runs the project SToP ­­– Neighbourhoods without Partner Violence, which was awarded a 2,000 Euro Prize. We met Maria Rösslhumer, Sonja Baltres, Christina Kopf, Isabella Steger and Simon Březina and chatted about the challenges of the current times. Due to the increasing number of domestic violence cases during the Covid lockdown in Spring 2020, calls to the women's helpline, which is located in the AÖF association office, increased hugely. The hotline therefore required much greater staffing during this period. SToP has built on the activation and involvement of local communities in several steps and has switched to online meetings, e.g. at the women's and men's tables, where strategies are discussed with neighbours to prevent domestic violence.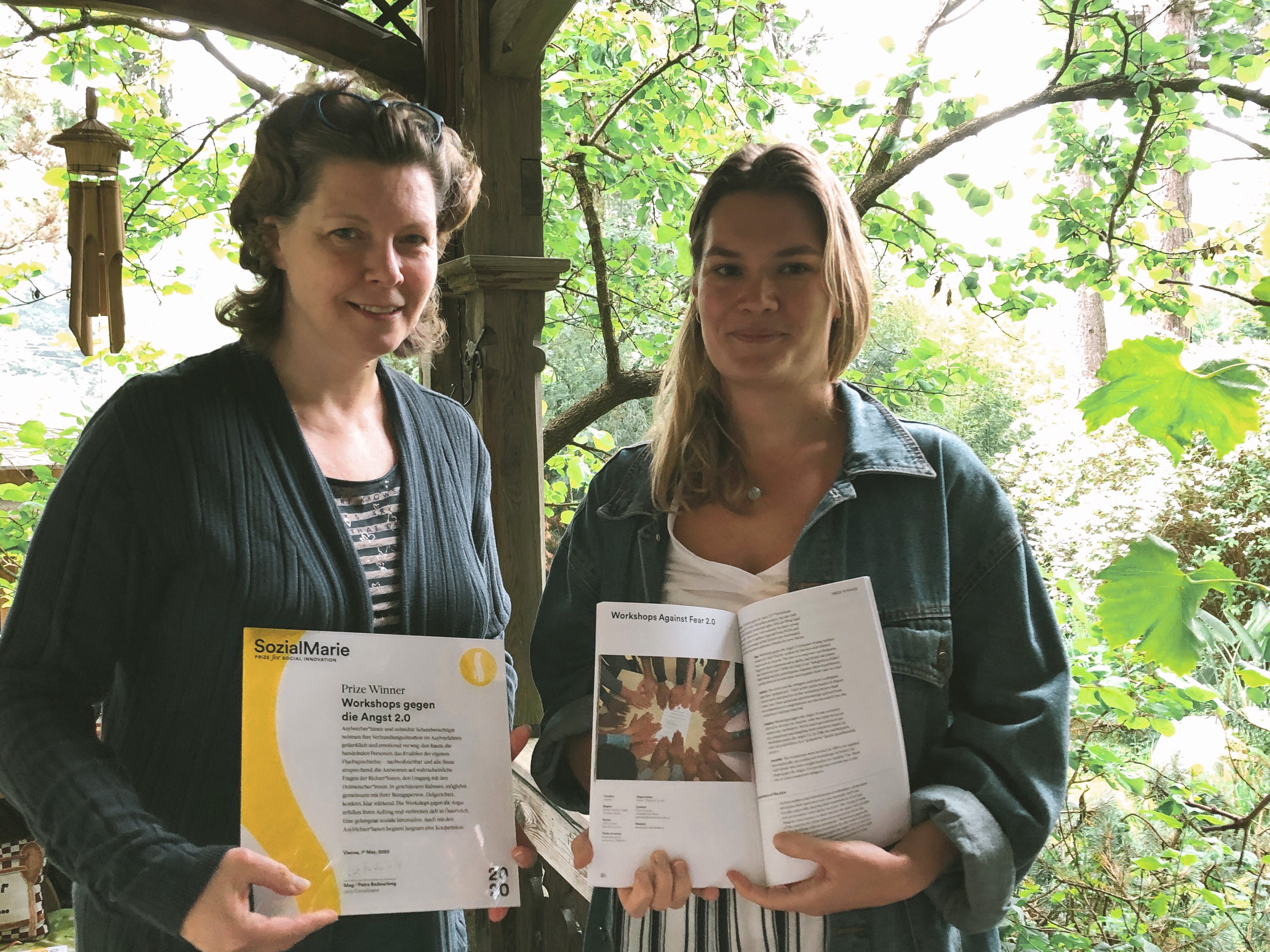 We visited Erika Kudweis, founder of the association PatInnen für alle (Patrons for All) and leader of the project Workshops Against Fear in Pressbaum. She began to organise workshops for refugees when on one occasion, she and her refugee godchildren noticed that new arrivals often do not know how to go about applying for asylum and are mostly not able to tell their personal story comprehensibly and in detail after their traumatic journey to Austria. Quietly, in a protected environment and usually together with a confidant, the participants of these workshops learn how to prepare for their asylum application. The project was nominated for SozialMarie in 2019 and received a 2,000 Euro Prize in 2020.
Click here to read our blog post about the history and the face behind Workshops Against Fear: www.sozialmarie.org/cs/blog/5621
We are preparing to hold the award ceremony online on 1 May, 2021 and are looking for digital and hybrid solutions to make the event as good a substitute for face-to-face meetings as possible. In the coming years, we will work more intensively on our network, offering opportunities to get to know each other to make up for the lost years. We will also focus more on social media – the new Instagram profile of SozialMarie will also provide insights into the everyday life of the awarded projects.