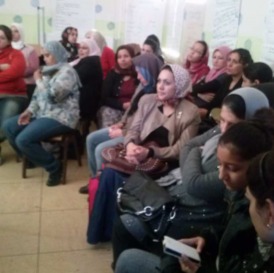 Gallery
Year:

2015
Country / Region:

Styria
Sector:

Civil Society/Social Economy
Fields of action:

Health / Care
Age of the target group:

all age groups
Gender of the target group:

female only
Project owner:

Verein SOMM
Responsible person:

Khatera Sadr
Website:
What is it about?
There are barriers to overcome between women from migrant backgrounds and care and health personnel – barriers of language and also barriers of reality construction. Differences of cultural socialisation are mirrored in differences of perception grids. Rahma's intermediaries – transcultural "experts" because themselves from migrant backgrounds – accompany patients to medical practitioners, to clinics, hospitals, or other social and health institutions. They encourage patients to make use of existing social and health infrastructure. And they – politely but stubbornly – enlighten doctors and care personnel about their prejudices. Overall, they thus strengthen and promote the processes of care and of healing.
Appreciation of the Jury
Integration that remains one-sided must fail. If the entire system, here the health system, is made inclusive, then everything becomes easier. Rahma's intermediaries – conversant in cultures, traditions, religions – are like bridges, with integrative effect, between women from migrant backgrounds and qualified personnel. Both sides learn to converge. Doctors and care personnel will no longer fail their patients, and these will no longer be afraid to approach the alien care and health system. Enough remains to be done: to further add to the more than 700 clients accompanied, in 8 languages, in a year; to extend Rahma's intervention zone; and to upgrade employment conditions of the presently six intermediaries.