SUHANJ! Fitness - We give you power
The first barrier-free integrative gym in Hungary
2,000 Euro Prize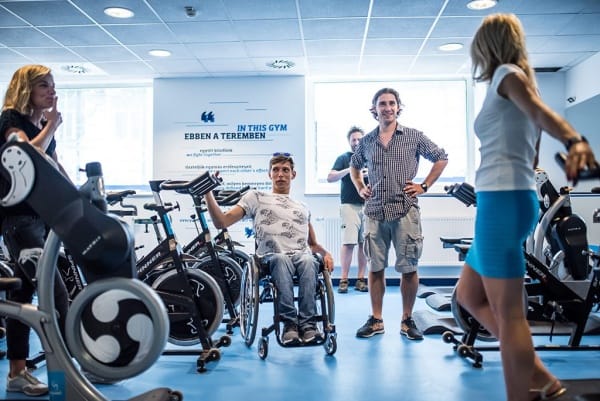 Gallery
Year:

2017
Country / Region:

throughout Hungary
Sector:

Civil Society/Social Economy
Fields of action:

Disability
Health / Care
Age of the target group:

all age groups
Gender of the target group:

all genders
Project owner:

SUHANJ! Alapítvány
Responsible person:

Salamon Alexandra
Website:
What is it about?
SUHANJ! Fitness: we give you strength. The SUHANJ! Foundation opened an integrative gym, which is unique in Hungary, it is barrier free for visually impaired and disabled people and also open for able people. The gym operates as a social enterprise and it also employs people with changed woking abilities (wheelchair users, visually impaired employees).
Appreciation of the Jury
Really, there is absolutely no denying the fact that movement and sport are relaxing and conducive to health not only for people without a disability. But this truth has not made it into societal everyday life and is therefore not put into practice. Suhanj! Fitness has taken an important step: It is explicitly and 100 per cent barrier-free; in this fitness centre, the focus is on bodily health – for everyone, be she or he bodily limited or not. And this happens together, "under one roof", not in an extra room shamefully hidden away somewhere for people living with a disability to do their own thing, no: at the very centre, with a clear and innovative message. Matters of course here happen as a matter of course.